Campo Lusso is the "Gran- Cru" of Cabernet Sauvignon of Petrolo. It's made from the vineyard of the same name planted the 11th September of 2001. The name derives from an old expression of local farmers that have been calling the field holding this vineyard as the most beautiful of the estate, a real luxury (Campo Lusso, luxury field).
This vineyard, surrounded by woodland, is placed on a natural terracing, just below the medieval watchtower of Galatrona and has particularly good weather and soil conditions.
Denomination
DOC Val d'Arno di Sopra, Vigna Campo Lusso – Estate produced and bottled
Certification
Organic
First year of production
2004
Grape variety
Cabernet Sauvignon
Production
about 1800 bottles
---
Vinegrowing 
Since 2004 we have been abandoning traditional farming methods practising natural and sustainable solutions: dry farming and no fertilization, no tillage, total grassing with mulch management, no use of synthetic pesticides. In 2016 the winery obtained official Organic Certification (Petrolo olive oil is organic since the 90's). To achieve natural balance in the vineyard, plant management is carried out by hand with targeted intervention. Heavier pruning and grape thinning is almost absent in the mature vineyards already balanced. Today extraordinary growth management is only needed in the more challenging years.
Vinification
Manual harvest in crates and further grape selection with sorting table. Natural vinification with native yeasts in cement vats. Manual soft and frequent pumping over. Long skin maceration.
Aging
Spontaneous malo-lactic fermentation in wood. Maturation for about 20/22 months in rigourously selected new French oak barriques. Constant batonnage of the fine lees for the first 6 months.
Vineyards
---
Vineyard Campo Lusso was planted in 2001. This high density vineyard extends for about half hectare, with about 5000 goblet-trained plants (bush system), just below the old historical watchtower of Galatrona just below 500 m asl. The vineyard is placed on beautiful natural terracing facing pristine woodland in the Chianti Hills with Cabernet Sauvignon plants.
A new look for Campo Lusso
---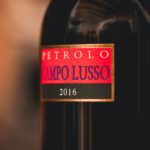 From vintage 2018 Campo Lusso changes its label. The new vest replaces the red and black minimalistic label.
The new graphics was made by the internationally acclaimed artist Sabina Mirri.
Download the wine fact-sheets
Awards